One of the greatest advantages to upgrading to a stone countertop is the sleek look of an under-mounted sink. Not only does it look great, but you end up with more usable countertop space that makes cleaning a snap—just wipe into sink and rinse down the drain!
For a variety of reasons, both visually and functionally, your choice of sink is important, so which one is the best for you?
There are several options available, but the two most popular, by far, are stainless steel and granite composite.
STAINLESS STEEL: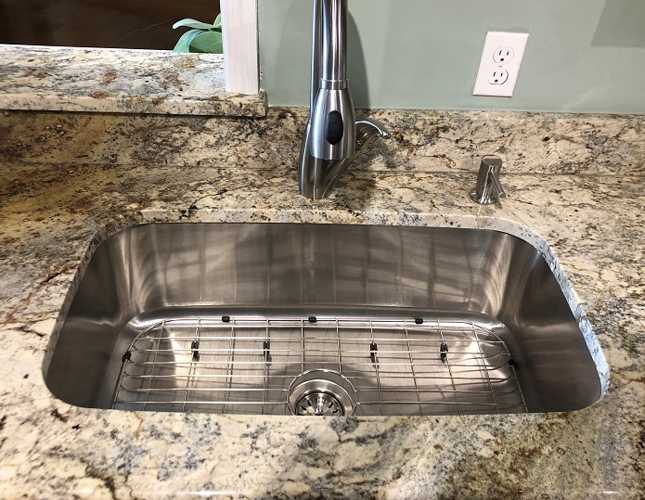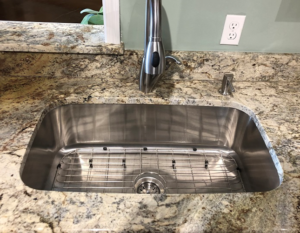 Stainless steel is not only durable, but also gives your kitchen a modern touch while at the same time keeping the style timeless so your sink will never go out of style.
While extremely durable, stainless steel is not indestructible, so we recommend steel grates to protect your sink from scratching and denting.  In addition to protecting your sink, steel grates also help you avoid back-ups from utensils and dishes that fall down the drain.
2 Things To Keep In Mind When Choosing Your Stainless Steel Sink
What grade/thickness of steel is it?

The best stainless steel for sinks is 304 stainless steel as it holds up the best to the wear and tear and keeps its finish the longest.
"300 series" steel means one of two things: inferior grade of steel or not knowing what kind.
Heavier gauge sinks are more resistant to denting – the higher the number, the thinner the steel. We recommend steel that is 16-18 gauge as 20 gauge is considered "builder grade" and not as durable as we would like.
What finish do you want?

Satin – Has a honed or matte finish that shows scratches, scuffs and imperfections.
Brushed – Similar to satin, but has brush lines to conceal "character" and looks cleaner when wet (your most practical option).
Chrome – Has a shiny finish that shows everything.
GRANITE COMPOSITE: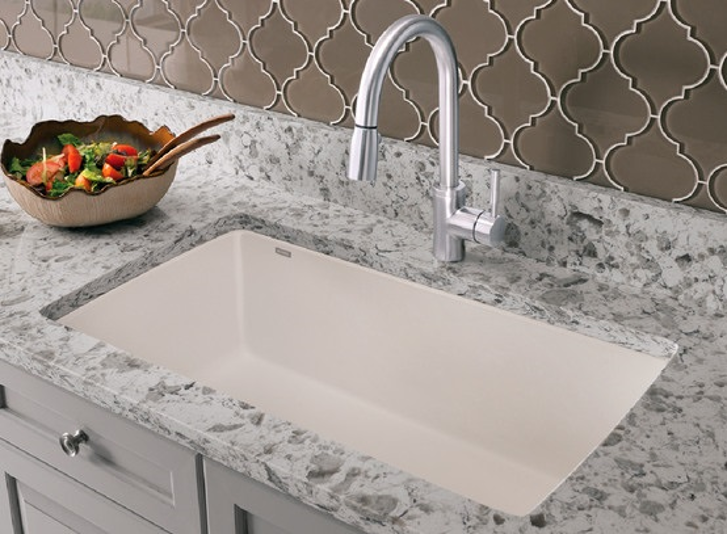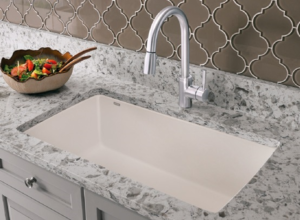 Granite composite sinks are made up of crushed granite and resins that you can find dyed a number of colors to better match your stone.
Being solid like your stone countertops, it's impossible to dent and extremely hard to scratch.  If you were to scratch it, unlike brushed stainless steel, there is no good fix.
So why spend more money on a heavier and more expensive sink than stainless?
Composite sinks offer unique colors, a completely different look and superior durability than stainless steel sinks.
WHERE TO GET YOUR SINK?
Reputable granite fabricators will walk you through the process and offer a selection of sinks you can touch and feel in the showroom.
You also have the option to find one on your own, but there are two things you have to keep in mind: 1) Cut file and 2) Proper size.
For the latter, see our blog post: "Size Matters on Sinks."
For the cut file, most brands of sinks out there don't have a digital cut file, so the shop will have to digitally measure and create their own file which takes time and, of course, more money – brands like Kohler and Blanco have these files.
Need more help, come down and talk to us , call us at 636-282-3900 or send us an email at sales@granitebusters.com!