These days, most people want a really big sink.  We get that, but you have to pick a sink that actually fits.
There are two key dimensions: Length and Width.
Depth matters also: if you have a normal cabinet and a garbage disposal, you won't be able to go deeper than 10".
Length:
The most common thing that pops up here is fitting in your sink base.  Your sink base is the front of the cabinet, from side to side.
The length of your sink base is as big as your sink can be in dimensions, but if that's maxed out, the inside of the cabinet will need to be cut down so the sink fits inside.
The second thing that sometimes pops up is just maximum size of a sink.  Realistically, a sink that's longer than 36" is too big for natural stone. Quartz could do it, but for natural stone, that's too big of a hole.
This isn't an exact rule, but it's something to keep in mind.
Width:
Sink companies keep on making bigger sinks. That's fun, but there is such a thing as too much fun.
For normal 24 inch-wide cabinets, a 17 inches is as wide a sink you can get.
If you have a split sink with different sized sides (like the 70/30 in the picture below), 19 inches is a very firm maximum on the larger side – 19 inches is usually too big.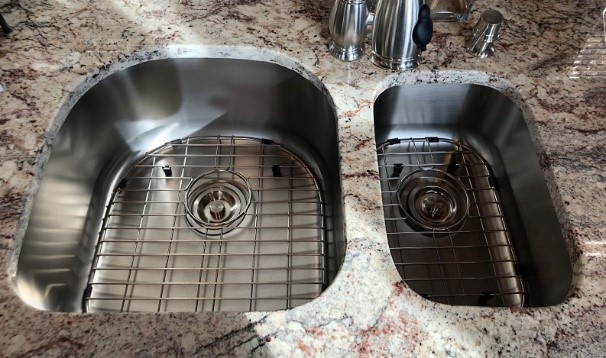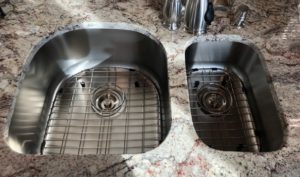 Having a sink wider than those maximums poses two problems: One, you cannot actually fit a faucet behind the sink. Pretty important.
Two, the front and back of the counter top might be so thin that you cannot transport it knowing that it will end up as your counter safe and sound, also really important.
If you have other questions, please give Granite Busters a call at 636-282-3900 or send us an email at sales@granitebusters.com. We'd love to help!